Funding/Payments
Course Funding and Payment Options
As a student, we know that funding your course can be a big deal. That's why the Academy of Makeup offers you a variety of different ways to pay for your course.
VET Study Loans – Study Loans provides finance for students seeking assistance in paying for their education. With rates lower than the current government VSL charges, Study Loans offers a competitive, transparent fee structure under a pay-as-you-go type model. There's no penalty for early repayment. You select the amount and timing of your repayments. You can even include the cost of your course materials, brushes, and products under Study Loans financing.
For more information, visit www.studyloans.com.au

Hassle free - Pay your Fees and Product Costs upfront before you start. There's nothing else to worry about from that time onwards. Receive a 5% discount on course fees if you make full payment in one lump sum.

Payment Plan - Pay your Deposit and then go onto our Interest Free, payment plan. Payments are due every two weeks and finish before your course ends.
Extended Payment Plan - Apply for our Extended, Interest Free payment plan. The Academy has a limited number of special Extended, Interest Free payment plans. Students are welcome to apply for one of these, if they require additional time to pay off their course fees.
Students will be required to provide additional information to the Academy, as part of the application process.

MAC Credit – As a multi-award winning broker, MAC Credit sources fast, affordable payment plan options to assist students to pay for their education. They offer flexible payment plans, with low interest rates, no upfront fees and less stress than many other credit agencies.
For more information, visit www.maccredit.com.au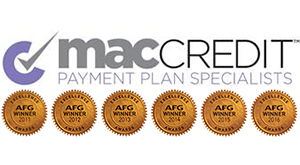 Afterpay – Available for course products, brushes, makeup kits etc. Buy what you want today, pay for it over 4 equal fortnightly instalments. Use your debit or credit card, get approved instantly.

Centrelink – Students may be eligible for assistance from Centrelink, under the Youth Allowanxe, ABSTUDY, Austudy and Pensioner Education Supplement. Eligibility criteria apply, so check directly with Centrelink in regards to your personal situation.
For more information visit www.humanservices.com.au

Travel Concessions – The Academy of Makeup is registered with the Queensland and Victorian Departments of Public Transport. Student enrolled in full time courses may be eligible for public transport concessions. Eligibility criteria apply, so check directly with the relevant Department in regards to your personal situation.
For more information visit www.translink.com.au and www.ptv.vic.gov.au