CERTIFICATE IN
SPECIAL EFFECTS MAKEUP
BE CREATIVE. BE DIFFERENT. BE YOU
To design and offer the best SPFX course in Australia, we collaborated with Australian Makeup Artist of the Year winner, Liz Sharp.
The result is an amazing, jam-packed SPFX short course that will help develop your skills and/or prepare you to enter our Diploma course.
Over an 8-week period, we'll demystify the techniques required to master realistic SPFX creations.  Utilising teaching methods used by leading makeup schools in Los Angeles and London, in this hands on course, you will be taught face-to-face by our expert SPFX makeup artists.
From concept design, painting, through sculpting, the curriculum focuses on producing industry-ready Makeup Artists equipped to gain employment in the workplace.
To guarantee the best quality learning experience, we cap all our Short Courses, and positions are limited.
Please complete our Enrolment Form. It's quick, easy, and doesn't oblige you to continue if you change your mind.
IN THIS COURSE, YOU'LL LEARN LIFE -LIKE SPECIAL EFFECTS SUCH AS
2 x Foam Latex appliances (styles may vary)

Bald Cap

Bruising

Dirt

Scratches

Grazes & cuts

Wounds

Bullet holes

Stitches

Scars & scarification

Burns and more!.
CERTIFICATION
On graduation, you will receive an Industry Recognised Certificate in SPFX. Alternatively, if you wish to complete the Training Workbook and Assessment, you may be issued with an Accredited Statement of Attainment for CUAMUP503.

OUTCOME
Our focus is on creating believable makeup designs through attention to detail, and you will complete this course with the confidence and skills to convey a different age, health or personality through your use of special effects.
ALSO INCLUDED IS
Comprehensive Course Notes

12 months access to SPFX videos on AOM TV Channel
Special Effects All-Pro Kit

Retail Price $299
The Special Effects All-Pro Kit contains all the essential items you need to get stared in Special Effects Makeup. Create wounds, scars, bruises, burns and basic characters with HUB Makeup's best FX sellers, all packaged at a discounted price. This kit is perfect for students, FX beginners and general lovers of blood and gore! The SPFX Kit is optional for students, however it is recommended for Diploma students. This Kit can be used to practice with at home and on Work Experience jobs.!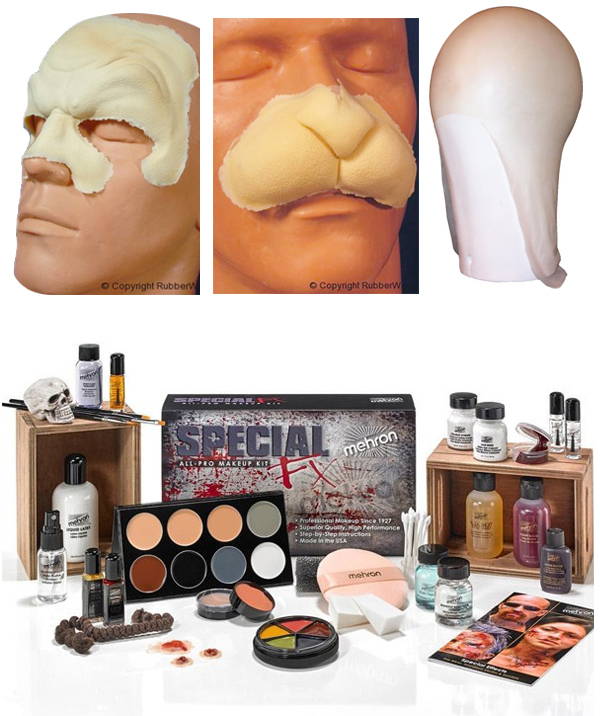 KIT CONTAINS: 
• Bald Cap
• 2 x Foam Latex appliances (styles may vary)
• 30ml Squirt Blood
• 8 Color Palette Includes: 3 Mask Covers & 5 Color Cup Colors
• 133ml Liquid Latex Clear
• 30ml Squirt Blood
• Large Powder Puff
• 60ml 3D Clear Gel
• Stage Blood
• 15ml Coagulated Blood
• 30ml Barrier Spray
• Crepe Hair
• 3 Full Size Stageline Makeup Brushes
• Colorset Powder
• 30ml Makeup Remover Lotion
• 30ml Brush Cleaner
• 30ml Spirit Gum Remover
• Spirit Gum
• Tooth FX Blood Red
• Tooth FX Nicotine
• Rigid Collodion
• Fixative A
• 30ml Hair White
• Modeling Putty/Wax
• Extra Flesh
• Bruise ColorRing
• Stipple Sponge
• Non Latex Sponge
• Cotton Swabs
• 2 Prosthetic Bullet Holes
• 1 Prosthetic Wound
• Application Guide - Special Effects
Student price $299.00 AUD (GST inclusive)  
Value cost price $343.00
Start Dates / Times, Requirements
Tuition Fee: $175
2024 SPFX 4 hr Workshop
Melbourne, Jan 22, Monday 10am – 2pm
Brisbane, Jan 22, Monday 10am – 2pm
Sydney, Jan 22, Monday 10am – 2pm
Hours. 10am - 2pm
Training Method: Face-to-face, highly practical (Classroom/Hands on)
Model: You may be required to bring your own model for some classes.  This will be advised to you before you start.
Minimum Age: 16 Years old
Makeup Kit: You must purchase the SPFX Kit used by the Academy of Makeup,
Study Pre-Requisites: Our "Certificate in Makeup" course or a basic level of makeup artistry experience is recommended, but not essential.