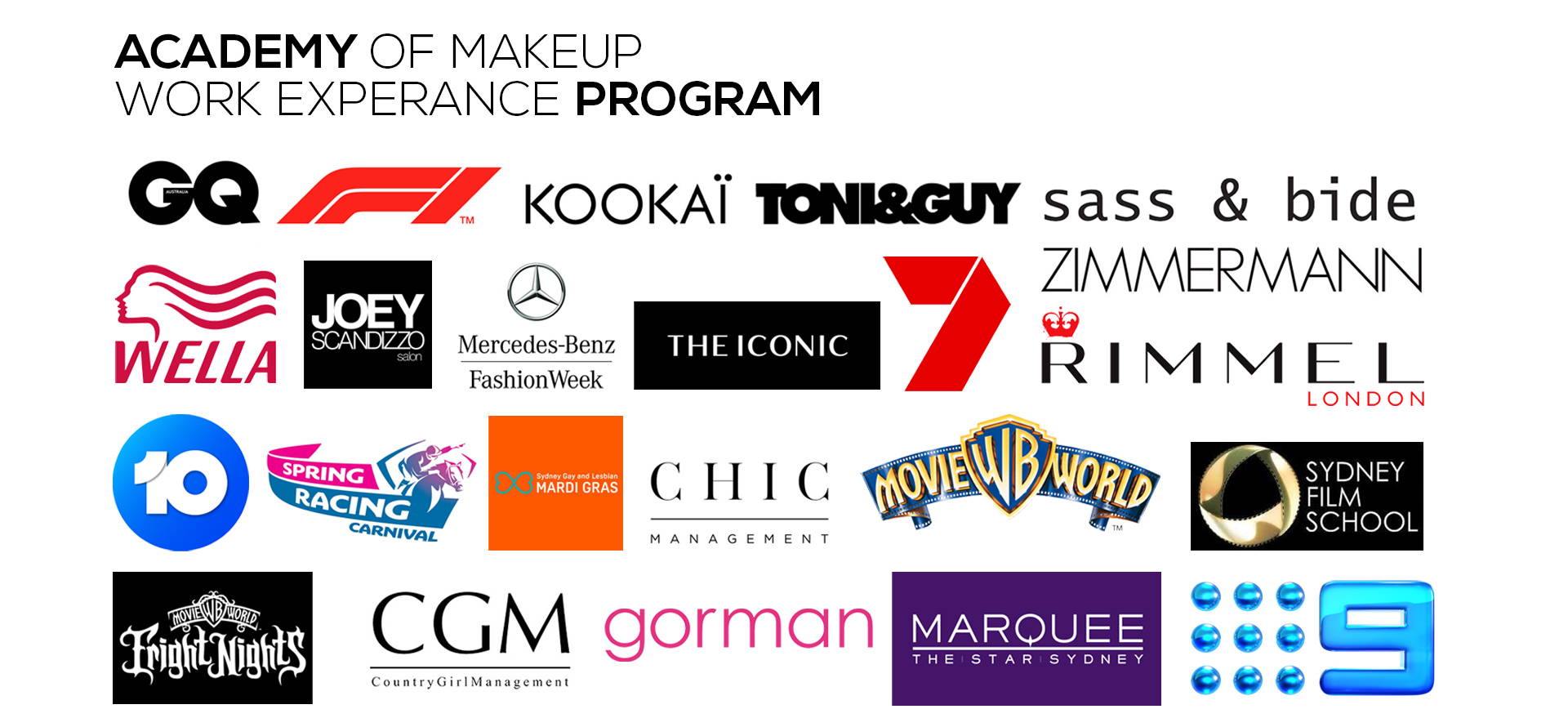 What's the Work Experience Program?
The Work Experience Program is one our students most praised opportunities while studying with us here at the Academy of Makeup. This is the opportunity to experience real work as a Makeup Artist and get credit as an experienced Makeup Artist. Students will be presented with an amazing range of Work Experience throughout their course allowing them to truly discover their inner Makeup Artist and what field they love the most!
Students will volunteer or undertake free work through to attain a variety of different work experiences opportunities to build connections and network within this amazing industry. Students will actually receive all professional imagery of each job to quickly build their Makeup Artistry Portfolios and use all work experience names to build their references on their Resumes and industry contact lists.
Students will get to experience every single avenue that the Makeup Industry offers. Students gain experience through the following avenues through out their courses:
TV, Film, Photography / Photoshoots, Editorial / Model Portfolios, SPFX, Freelance Makeup Artistry, Fashion Runway / Catwalk, Theatre, Assisting Establish Makeup Artists, Freelance Makeup Artistry, And much more!
Our Work Experience Program is a huge part of our students personal and professional development as Makeup Artists. We see confidence, skills and techniques blossom throughout their work experience jobs as they quickly develop communication and networking skills within this industry. It is so exciting to see each student follow their passions through experiencing new avenues of Makeup Artistry and building connections to get ready to launch their career when they graduate from the Academy of Makeup.
What courses get to be apart of the Work Experience Program?
Our Diploma of Screen and Media students get to experience the Work Experience first hand!
How many hours need to be completed?
Diploma of Screen and Media Students will complete a minimum of 150 Hours
All students are are required to complete their work experience hours by the last day of their course.
What have past students got to experience through the program?
Its all about who you know! We love to name drop - heres a few names we have been privileged to work with and continue to build industry relationships with!
Melbourne Campus
GQ Australia, Asilio the Label , Melbourne City Ballet, RMIT, Kookai , Wella Professional, Victorian Traning Awards, F1 Grand Prix, Flemington Spring Racing, Joey Scandizzo Salon, Melbourne Opera Company, Intimio, JMC Academy, The Producers Co, Victoria Curtin Cosmetics, Healthy Life, Girls Academy, Methodist Ladies College, Canterbury Girls College, MLC Girls Grammar, O'Brien Group Arena, Ivanhoe Grammar.
Sydney Campus
Channel 7, Mercedes Benz Fashion Week, Marquee Nightclub Sydney, Rimmel, Madame Tussauds, Mardi Gras Floats, The Brand Collective, Force Productions, International Film School Sydney, JMC Academy, Sydney Breast Cancer Foundation, Rising Pictures, TV Training Academy, Raffles college of design and commerce, Music video for 'the voice' artist, Toni and Guy , Brutally Honest productions, Patience stage production, Stay Motivated fitness apparel, Dawn Dusk Clothing, Sydney model and Etiquette College, SAE Film School, Sydney Film Base, Melbourne Polytechnic , Australian Dance Fesitval, ARTorial, People like us, Excite Holidays
Brisbane Campus
Village Roadshow Theme Parks (Including Movie World's annual 'Fright Night'), Chic Management , Creative Generation , June Dally Watkins, Performing Arts Conservatory, Griffith University, QUT, Miss World Australia , TV Training Australia, Brisbane Arts Theatre, Flight Centre, Shake and Stir Theatre Company.
Does this help students attain paid work?
Yes! We see a lot of our graduated Makeup Artistry students who made the most of their Work Experience opportunities and used it to their advantage to network and build relationships with key connections within the Industry.
A lot of past graduates actually now work for the names you read above!