CERTIFICATE IN
SPRAY TANNING 
BE CREATIVE. BE DIFFERENT. BE YOU
COURSE OUTLINE
Become a certified Spray Tan Technician in just 4 hours, with the skills to confidently start your own business the very next day! Benefit from face-to-face tuition and trainer guidance in this hands on, practical course, that's leading the way in Spray Tan training and getting rave reviews!
We've packed this course with everything you need to know to succeed, starting with the fundamentals of skin types, equipment operation and product science, through to tanning like a Pro, and then marketing and pricing your Spray Tan services.
You'll use the leading brand, Moroccan Tan, in all classes, and because we have
been teaching Spray Tanning for 20 years, you'll definitely be taught by experts in their field.

The Academy of Makeup is very excited to be partnering with Moroccan Tan Australia, to be delivering you incredible training with incredible products.

To guarantee the best quality learning experience, we cap all our Short Courses, and positions are limited.
Please complete our Enrolment Form. It's quick, easy, and doesn't oblige you to continue if you change your mind.
TIME TABLE
-------------------------------------------------------------
Melbourne - Brisbane
Sundays (see Enrolment Form for dates)
Time: 10am – 2pm
Sydney
Mondays (see Enrolment Form for dates)
Time: 5pm – 9pm
INTRODUCTION
Workplace Health and Safety

What is Spray Tanning & How Does It Work – Overview

The science behind Dihydroxyacetone (DHA)

Skin types, skin structure, skin conditions & contraindications

PH levels and their importance in Spray Tannin

g
THE TANNING PROCESS
Client Consultation

Client Preparation and Aftercare

Principles of Tanning

Spray Tanning process and technique

Skin Types

Tanning Men and different body shapes
GROWING YOUR BUSINESS
Marketing your Spray Tanning Business

Social media for your business

How to price your Spray Tanning Services, Sales tips
EQUIPMENT AND PRODUCTS
Moroccan Tan Products/Range

Machine overview, maintenance and trouble shooting
OTHER REQUIREMENTS
Duration: 4 Hours

Face-to-face, highly practical (Classroom/Hands on)




Please bring 2 models, who are exfoliated and moisturised the day before. They should wear loose fitting / dark clothing, no jewellery, no perfume or deodorant. Model to remove hair/shave the day before

.

Model 1 required at 12.30pm. Model 2 required at 1pm. Both models are only required for 30 minutes each




Minimum Age: 15 Years old
ALSO INCLUDED IS
Spray Tanning Training Manual

12 months access to Spray Tanning and Airbrush Makeup videos on AOM TV Channel

All Equipment and Products provided in the classroom

Training Guarantee – if you don't feel competent at the end of your course, you can join the next course running, completely FREE!
CERTIFICATION
on graduation, you will receive an Industry Recognised Certificate in Spray Tanning.
Retail Price $458.40
This Spray Tan Kit is ideal for those starting out in spray tanning. If you're looking for the best equipment in the industry, plus support in product knowledge and marketing, then this is the Kit for you. You'll have everything you need to be confident and ready to start your new business and master the perfect tan!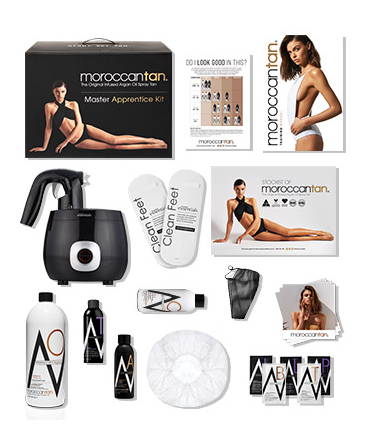 Kit Includes:
Equipment

x 1 - Tanning Essentials Pro V System
Solution

x 1 - Original 1L
x 1 - Coco 125 ML | Nights 125 ML | Accelerated 125 ML
Retail Samples
x 1 - Instant Tanning Lotion 10ml
x 1 - moroccanbutter 10ml
x 1 - moroccanprimer 9ml
x 1 - moroccanluminous 10ml
x 1 - moroccanflawless 10ml

*Sachets may vary subject to availability
Marketing

x 1 - Retail Flyers - 25 pack
x 1 - A5 Counter Board Solution Guide
x 1 - Comprehensive Training Manual
x 1 - A4 Poster
Disposables

x 1 - Disposable Starter Pack | 25 Hair Caps + 25 G-Strings
x 1 - Clean Feet | 25 Pack