ATTENTION FUTURE MAKEUP ARTIST!
Finally, a comprehensive, advanced makeup course covering all you need to know to start a successful freelance Makeup Artistry career, without any Special Effects classes.
So you want to work in the fashion & photography makeup industry and you want an accredited qualification under your belt. But you're never going to use SPFX and you don't want to spend a year doing a Diploma of Makeup that includes SPFX.

This Certificate IV in Screen & Media makeup might be the solution. With a 6-month timeframe, no Special Effects, and a price difference of $8221 from a diploma, it's a no-brainer!
But not everyone should take this course – Sounds silly – It's not and here's why. We at the Academy of Makeup seek out students who are the most passionate, committed, and motivated. No prior experience is necessary, since we will give it our all to coach you to be the greatest. But you must be prepared to take on and own this.
If you believe you have what it takes to become a top Australian Makeup Artist, enrol now before someone else gets your spot. This course only runs once a year and has a limited number of seats.
We also provide a number of benefits that other makeup schools do not. Here are a few examples of them:
- lessons on how to start a freelance beauty business using information only known by top Makeup Artists
- learn the latest trends in makeup application and how to use the tools and equipment required for them.
- learn how to maximise this course's emphasis on fashion and glamour strategies to help your business succeed.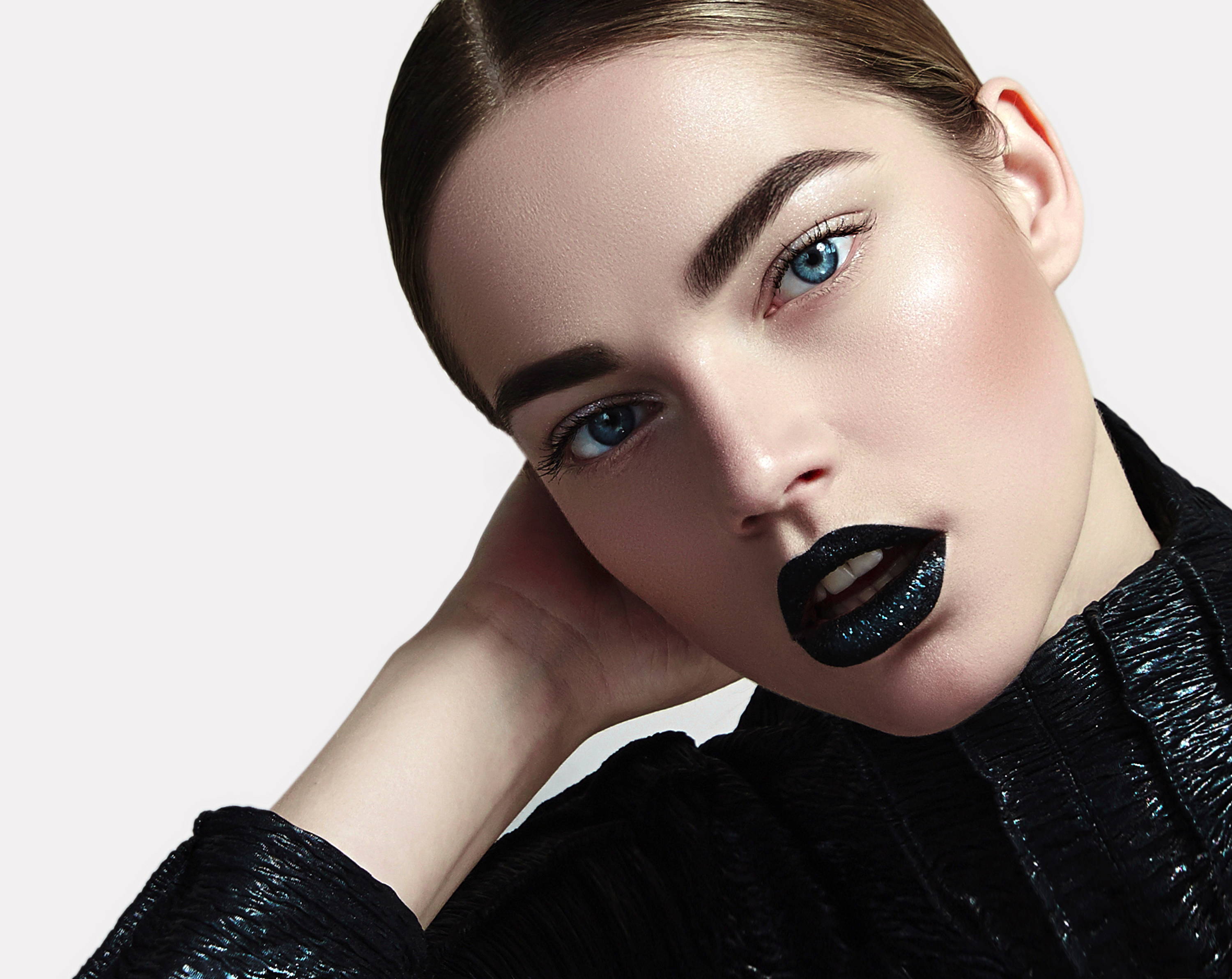 CERTIFICATE IV IN SCREEN AND MEDIA
SPECIALIST MAKEUP SERVICES (CUA41220)

We make paying your fees simple so you can concentrate on the vital task of learning. You can choose one of the following choices:
Pay upfront and receive a 5% discount,

Use our (interest free) Payment Plan option and make fortnightly payments starting with a $1500 deposit

ZeeFi provides finance solutions for students.

 

You choose your course and they remove the stress of upfront course costs (

https://zeefi.io/students/

)

Reduce your course fee by $1,000 !
Our Certificate IV scholarship programme aims to identify up-and-coming artists and assist them in breaking into the makeup industry. You only submit some creative and written work for our review and evaluation. Successful students receive a $1000 discount on our course fee. Conditions apply.
FREE Makeup Kit, Brush Set & TShirt (valued at $1552)
You'll receive a great starter Makeup Kit and Brush Set, which is ideal to begin your kit building process. We also include a complimentary Tshirt, which is perfect for Work Experience events.

Lights, Camera, Action! The Certificate IV in Screen and Media (Specialist Makeup Services) is the programme to take if you wish to work backstage, freelance, bridal or editorial. This course is jam-packed with all the makeup techniques you'll need to realise your goals of working backstage at the greatest fashion shows, the hottest editorial assignments, the trendiest music festivals, bridal events, freelance work, and more.
This flexible, blended learning programme has been specially created to include the essential knowledge that every Makeup Artist must know. You have the freedom to study when it's convenient for you, thanks to the face-to-face and online components of the lessons.
We cover it all in our information-packed classes, to teach you the skills to become a great makeup artist. As a result, you'll be prepared for employment on graduation from the Academy and you will have confidence necessary to start your career.
You can enter so many amazing careers with the Certificate IV in Screen & Media, including:
Film, TV and stage makeup

Retail makeup artist

Salon/Spa makeup artist

Sales representative for beauty brand

Freelance makeup artist

Bridal makeup artist

Editorial makeup artist

Face/body painter

Social media influencer

Educator
---

Many of our talented students often put pen to paper (or fingers to keyboards!) and rate us on Google. You can read what they said below…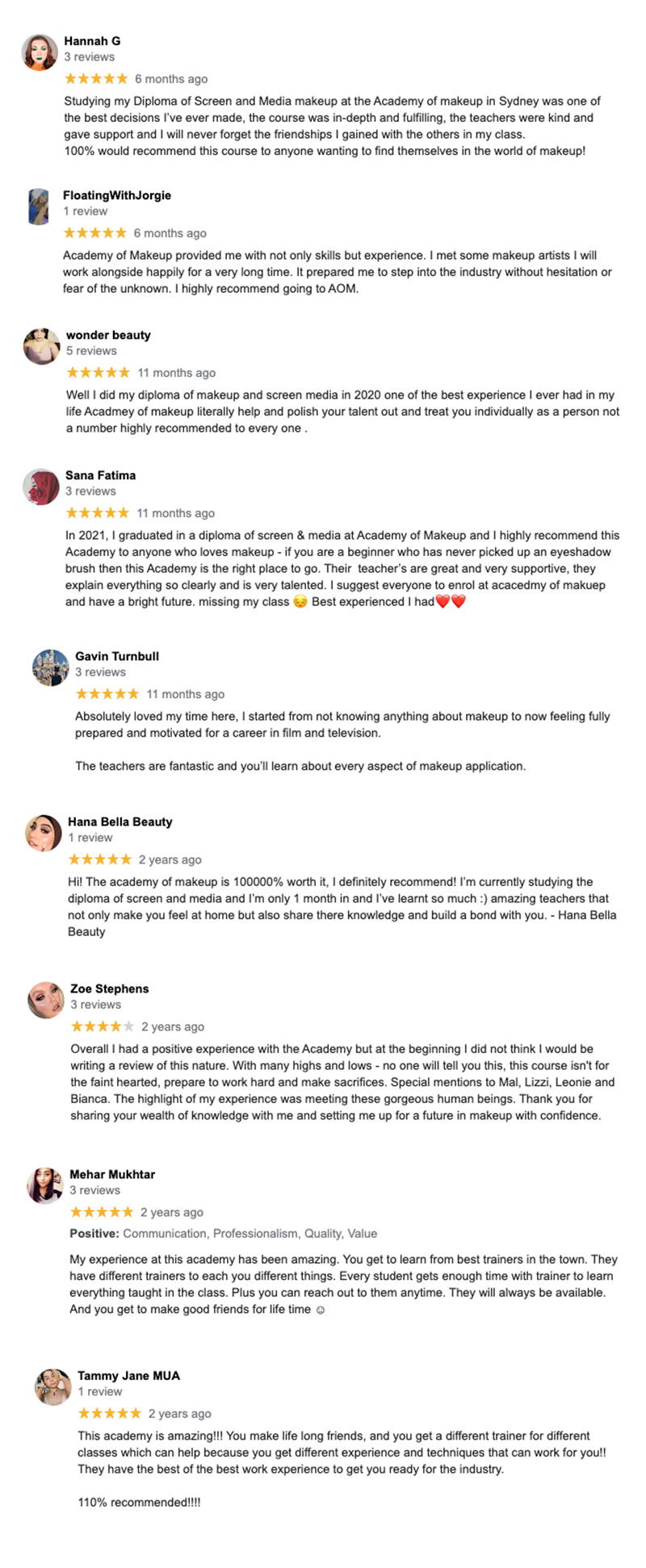 We asked our students to comment on their experience at the Academy of Makeup.  Watch to learn the insider truth about being a student at the Academy of Makeup…

Work alongside some of the biggest names in the industry!
Click below to read more about our program.

2023
Fee For Service
$8,010
August 2022 students receive a Makeup Kit and Brush Set, valued at $1552.
Upfront Payment
Pay upfront and receive a 5% discount, reducing your fee to $7609.50. Payable 7 days before course commencement.
Payment Plan, 20 Fortnightly payments

Deposit $1,500 Non-Refundable (payable on Enrolment)
Balance of Fees $6510, fortnightly payments of $542.50 x 12
Scholarship Award *Creative application required

Course Fee $7010
Deposit $1,500 Non-Refundable (payable on Enrolment)
Balance of Fees $7010, fortnightly payments of $459 x 12
2023
Melbourne - June 7,
Wednesday, Thursday, Friday.


Sydney - May 1,
Monday, Tuesday, Wednesday.


Brisbane May 2,
Monday, Tuesday, Wednesday.

70+ videos, an online student site, and live streaming capabilities for every lesson are included in the 60+ information-packed classes that cover everything you need to know to become a professional Makeup Artist.

Discover insider tips for breaking into the Makeup Industry so you can steer clear of the worst career blunders that many aspiring artists make after graduating. Before you even graduate, we'll have you confident and job ready.


AOM TV is like sitting in the front row of our makeup lessons! It is intended to offer our students an additional level of learning and to actually enhance and develop their abilities to the maximum possible level.
You can see everything clearly, since we film AOM TV in 4K ultra high definition. And, just as in class, our training staff explain every makeup procedure in a straightforward and understandable manner.
The AOM TV video library has over 60 incredible makeup demonstrations and is always expanding.  AOM TV does not take the place of our in-person classroom lessons. It is regarded as an addition to it, and it gives our students limitless access to watch whenever they want.  This is unquestionably a significant benefit.
All of our students are encouraged to watch a session on AOM TV before class. As a result, they are better prepared for that day's lesson and can arrive with the knowledge they need to start learning the skill that day.

We cap our Certificate IV classes, and there are a restricted number of positions available, which ensures we provide the highest calibre educational experience.
Please fill out our Application Form if enrolling is something you are interested in. It's quick, simple, and you're not compelled to keep going if you change your mind.

We are a Registered Training Organisation (#21399). RTOs deliver nationally recognised, accredited training in the VET sector. The Academy of Makeup has been a registered RTO since 2002.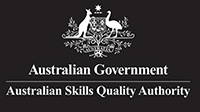 We are an RTO, approved by, and registered with ASQA, the Australian Skills Quality Authority.

The Academy began in 2002, and became a Registered Training Organisation in 2003 (RTO #21399). We are one of Australia's oldest and well-known makeup Academies.
FULL CERTIFICATE IV DESCRIPTION  
CERTIFICATE IV IN SCREEN AND MEDIA
SPECIALIST MAKEUP SERVICES (CUA41220)
BSBPEF402 Develop personal work priorities
Learn how to take care of and oversee your own artistic output. You'll be able to execute research-based work activities and communicate with others in a timely and professional manner by applying the industry information that you learned in this unit.
CUAIND311 Work effectively in the creative arts industry
What's it actually like to work as a freelance makeup artist? How can you maintain your motivation as you look for employment? Obtain the knowledge and abilities required to manage your finances, carry out company strategy, and market your work to a variety of consumers.
CUAMWB401 Develop and implement own self-care plan in the creative industries
You now have a concept, but how can you make your imaginative dream a reality? In order to help you set and achieve professional goals and keep up a healthy and long-lasting career as a makeup artist, this subject examines real-world settings.
CUAWHS312 Apply work health and safety practices
Develop a solid awareness of the health and safety rules for the beauty business after completing this subject. Learn how to spot risks, control them, improve your own practice's safety, and make sure the safety of people around you.
CUAMUP411 Design, apply and remove make-up
The principles of makeup design are covered in this subject, along with how to consult with clients and analyse face shapes, skin tones, and colour undertones. Discover how to use various beauty makeup styles, from naturally subtle to huge, dramatic, and colourful.
CUAMUP413 Style hair for productions
Learn how to create a variety of hair styles for events, film, TV, theatre, photographic, and live performances, from ponytails to top knots and twists (and everything in between). Learn the skills and knowledge necessary to deal with different styling equipment, products, and clients.
SHBBMUP003 Design and apply make-up for photography
What's life like as a working makeup artist in a studio environment? This unit offers an overview of how to apply makeup for a range of different lighting scenarios, as well as how to design and apply photographic makeup in response to a client or stylist's creative brief.
SHBBMUP011 Design and apply remedial camouflage make-up
This unit gives an overview on how to apply specialised make-up products to disguise skin imperfections on the face and body.
It requires the ability to consult with clients, select products and equipment, and apply camouflage make-up to disguise the appearance of blemishes, birthmarks and scars.
SHBBMUP005 Apply airbrush make-up
Discover the most recent airbrushing methods, products, gear, and tools. This unit will teach you how to apply airbrush makeup to the face and body for everything from beauty to body art to extraordinary effects.
SHBBMUP013 Design and apply creative make-up
This topic provides the skills and information needed to create and apply makeup for specialised looks that involve creative design and application of makeup in response to a client requirement. You'll learn the skills to work with a client to improve a brief before researching, designing, testing, and applying a creative makeup.
SHBHDES004 Create classic long hair up-styles
This unit gives you the skills to confidently consult with a variety of hair styling clients, including doing a hair and face characteristic analysis. You will be equipped with the knowledge and abilities necessary to plan and execute a variety of long hair upstyles by the end of this topic.
CUARES412 Conduct research
Where do makeup artists get their information from and how do they understand a design brief? With the ability to conduct research and give presentations on a variety of artistic subjects, this unit will get you ready for life as a practising makeup artist.
CUAACD311 - Produce drawings to communicate ideas
Learning how to design face charts is an integral part of becoming a makeup artist. They not only act as a tool in the 'planning' stage of any makeup design, but will also help guide you through your practical assessments in class.
CAREER OUTCOMES
We have taught around 7200 students, many of whom have graduated as successful Australian Makeup Artists, working here in Australia, as well as internationally.
Around 7200 students have studied with us, and many of them have gone on to become renowned Australian makeup artists who work both domestically and abroad. 

The Certificate in Screen & Media could lead you into number of makeup careers, including:

Professional makeup artist

Film, TV and stage makeup

Retail makeup artist

Salon/Spa makeup artist

Sales representative for beauty brand

Freelance makeup artist

Bridal makeup artist

Editorial makeup artist

Face/body painter

Social media influencer

Educator

 

 

Our top reasons why it's the ideal professional path are:

• Flexible hours

• Numerous chances for creative expression

• Interaction with fascinating individuals

• Travel possibilities

• Positive effects on people 

 

 

You'll require the following qualities:

• Creativity and artistic talent

• An attention to detail

• Fluent communication skills

• Good colour perception

• Capacity to work long hours and during odd hours

• Customer service abilities

• Business sense

• Easygoing demeanour

• Time management